14 days to return
We offer a 14 days money-back guarantee in case you don't like the product for any reason

Professional advice
We offer professional advice on the purchase and sale by ours specialits

Quality Assurance
We provide a quality guarantee for the products in our store

Fast shipping
We have most of our products in stock. We ship them in a 24 hours
Intamsys 3D printers


There are 3 products.
Showing 1-3 of 3 item(s)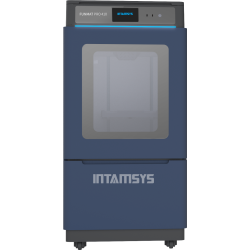 Intamsys 3D printers
Our store's offer for 3D printing lovers could not miss the products of the renowned Intamsys brand.Professional Intamsys 3D printersthis is one of the mostwell-known printer manufacturers a>. The name was created by abbreviation INTelligent Additive Manufacturing SYStems. The brand is headquartered in Shanghai, where ideas for new ones are also born Intamsys printers. It is a brand that stands out from the crowd. Intamsys spatial printershave much cheaper products a>that do not differ in quality from those offered by competitive stores.
Intamsys printers in the Outlet3D.eu offerThese are elements made with attention to the smallest details, which makes them popular among people dealing with 3D printing technology. In our store, we offer nnewest Intamsys 3D printerssuch as e.g.Funmat HT Enhancedthat will be perfect for every task entrusted to them. Intamsys printersare capable of printing with the use of industrial materials such as ULTEM, PPSU or PEEK. Intamsys printeris a durable device that workswill be successful in all conditions.
Features of Intamsys 3D printers
Intamsys 3D printeris not only a guarantee of great quality, but also the safety and reliability of the device. In the rich offer of our store you will find devices such as Intamsys printerFUNMAT PRO 610HTwhich stands out from the rest of the elements. It is the largest product available in the categoryIntamsys 3D printers in the Outlet3D.eu offer. TheseIntamsys printersare ideal devices for printing large and functional materials with high efficiency using PEEK, ULTEM, PPSU and others.

Intamsys printers in the Outlet3D.eu storeallow you to create innovative solutions with the help ofref = "https://outlet3d.eu/pl/55-filamenty">widely available materials . ModelFUNMAT PRO 410will allow you to achieve unique accuracy in producing the highest quality elements.Intamsys 3D printerit can handle even the most complex projects in a short time. We also have a smaller equivalent of the above in our store, which is Intamsys 3D printerFUNMAT HT. It's an inexpensive deviceHigh-performance printing that will print parts accurate to 50 microns. We invite you to familiarize yourself with our offer. p>