14 days to return
We offer a 14 days money-back guarantee in case you don't like the product for any reason

Professional advice
We offer professional advice on the purchase and sale by ours specialits

Quality Assurance
We provide a quality guarantee for the products in our store

Fast international shipping
We have most of our products in stock. We ship them in a 24 hours
Structured light scanners


There are 3 products.
Showing 1-3 of 3 item(s)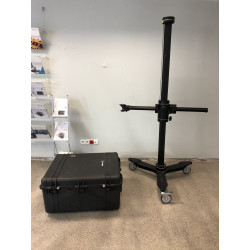 3D scanners - principles of operation and application span>
Currently, there are many technologies for digitally acquiring the shape of a three-dimensional object. First of all, 3D scanners are divided into non-contact and touch-sensitive. At Outlet3D.eu you will find a wide selection of hand-held and laser hand-held and laser 3D scanners, thanks to which you can make extremely precise three-dimensional models of scanned objects. In the case of 3D scanners, the laser beam (red or blue) is directed at the scanned object. The device measures the refraction of the rays or their distance to the object. Using this data, the software builds a three-dimensional model of the scanned object. Helpful in scanning with the use of a 3D laser scanner is the use of markers, which you can also find in our store's offer.
3D scanners are used in more and more industrial sectors. Currently, they are used, inter alia, in: civil engineering, forensics, medicine, fashion, culture, agriculture, space industry, as well as a quality control tool.
Structured light scanners - what should you know?
Structured light scanner work slightly different from basic laser scanners. Instead of a laser beam light scannerthe tural emits a line of light that falls on the object under study. The position of the beam changes during scanning, thanks to which it can collect the necessary information about the appearance and shape of the object. The biggest advantage is the speed of the entire process. Including for this reason= "font-size: 11pt; font-family: Arial; color: # 000000; background-color: transparent; font-weight: bold; font-style: normal; font-variant: normal; text-decoration: none; vertical -align: baseline; white-space: pre-wrap; ">structured light scanners are used to scan people . It is worth adding, however, that this type of 3D scanner is more sensitive to light thanf = "https://outlet3d.eu/pl/270-skanery-3d-laserowe">laser scanner, therefore it needs certain conditions for proper operation. In addition, glossy or black surfaces must be specially coated before scanning= "https://outlet3d.eu/pl/176-spraye-antyrefleksacyjne">matting spray a>.
Check span>structured light scanners at Outlet3D.eu and choose the model that suits your needs. Order today and we'll take care of quick shipment of your equipment. p>