14 days to return
We offer a 14 days money-back guarantee in case you don't like the product for any reason

Professional advice
We offer professional advice on the purchase and sale by ours specialits

Quality Assurance
We provide a quality guarantee for the products in our store

Fast international shipping
We have most of our products in stock. We ship them in a 24 hours
Hexagon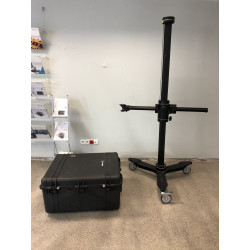 There are a large number of scanners on the market that are a useful element of both home and workplace equipment. Hexagon Scannershard to replace with other devices, because in terms of image quality, functionality and convenience of use, they are the market leader.
Hexagon scanners - types available
When choosing a scanner, technical parameters play an important role, but the key factor is whether the equipment meets all your needs. Hexagonis a brand that cares about its customers and creates products of excellent quality for their users.
AllHexagon scannersThey are characterized by high resolution of cameras and allow for precise acquisition of geometry. The SmartSCan HE -R8 can be used in particular for research. In addition, it has gained great popularity in the field of archeology and museology, because with their help you can quickly transfer an object to the virtual world. Thanks to scanners, we also create prostheses, which are particularly satisfied by automotive enthusiasts. Thanks to this, they can create and modify all the elements according to their own needs. 3D scanners are also used more and more often when creating films, games or commercials.
On the website of our shopepu can be foundHexagon photogrammetry scanners.With this device you can get the dataphotographic, which are then processed into spatial data. The model from the AICON DPA series, DPA Entry has an ideal system for well-trained users who know the principles of photogrammetry and can take full control of the measurement process. The kit includes measuring accessories such as a basic range of targets, adapters and steel strips for measuring simple parts. Its special feature is the high geometry stability, thanks to the construction based on carbon fiber.
Scanners

industrial Hexagon - technical specification

Hexagon scannerin the process of 3D printing, it should make very accurate and clear measurements. The Hexagon line of scanners is a high and entry-level solution for the accurate digitization of 3D industrial parts. Products of this brand usetps: //outlet3d.eu/pl/180-skanery-swiatla-strukturalnego ">structured light technologiesand operate by projecting reference fringes. There is no need to use them= "https://outlet3d.eu/pl/174-punkty-referencyjne-klejone">sticking reference points . Handheld scanner it is compact and light weight, which makes it easy to move around. In addition, it is compatible, characterized by high accuracy of measurements and allows full control during the work in progress.
rozwiń więcej >
zwiń