14 days to return
We offer a 14 days money-back guarantee in case you don't like the product for any reason

Professional advice
We offer professional advice on the purchase and sale by ours specialits

Quality Assurance
We provide a quality guarantee for the products in our store

Fast shipping
We have most of our products in stock. We ship them in a 24 hours
Overvoltage limiters


There are 3 products.
Showing 1-3 of 3 item(s)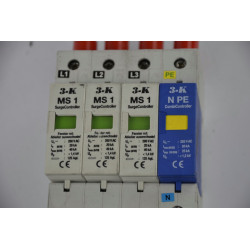 Surge arresters in a single-family house it is an obligation if your home is exposed to the harmful effects of lightning. They are also common surge arresters in photovoltaic installations usually located on the roof. These are devices designed to protect against transient overvoltages that limit the frequency as well as the duration of the line follow current. Limitedsurge switches from the outlet3d.eu range effectively protect connected equipment during a storm.
Surge arresters in the Outlet3D.eu offer
You will find in the wide offer of our storesurge arresters for different voltage, so you will definitely choose the right product for you. These are the highest quality devices which, thanks to the correct connection and the addition of other lightning protection elements, will significantly reduce the risk of lightning. We offer products such as limitersovervoltage sn ,LV surge arresters , ifindoor LV surge arresters . Each of them is characterized by durability and failure-free operation despite long-term use.
LV or SN surge arresters - which one to choose?
SN surge arresters at outlet3d.eu are selected for medium voltage networks. Perfect checkThey are found in both cable and overhead networks. On medium voltage overhead lines where they are not locatedvoltage limiters, b>there is an increased risk of a direct lightning strike to the conductor. Overvoltage limiters in overhead lines sn b>usually one set is installed for every 500 meters of the line. They are available in the version withf = "https://outlet3d.eu/pl/236-wylaczniki-bezpieczenstwa">switch which operates on the overcurrent and thermal principle.
Limiters in LV overhead linesavailable in our offer are adapted to protect lines and devices of low voltage alternating current against the dangers of atmospheric and switching overvoltages. OgreLV surge arresters pan> provide effective protection against overvoltages transferred from the medium voltage network to the low voltage network. In combination withhttps://outlet3d.eu/pl/232-ochrona-odgromowa ">lightning protection it is an excellent protection against the harmful results of lightning strikes anywhere in the conductor. Check also oursf = "https://outlet3d.eu/pl/234-wylaczniki-rozlaczniki-styczniki">connecting elements for electric circuitsat low prices. p>