14 days to return
We offer a 14 days money-back guarantee in case you don't like the product for any reason

Professional advice
We offer professional advice on the purchase and sale by ours specialits

Quality Assurance
We provide a quality guarantee for the products in our store

Fast shipping
We have most of our products in stock. We ship them in a 24 hours
Desktop 3D scanners


There are 3 products.
Showing 1-3 of 3 item(s)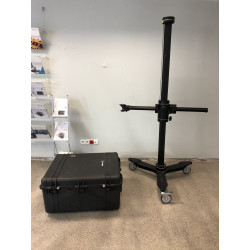 3D scanners - principles of operation and application span>
Currently, there are many technologies for digitally acquiring the shape of a three-dimensional object. First of all, 3D scanners are divided into non-contact and touch-sensitive scanners. At Outlet3D.eu you will find a wide selection of hand-held and laser hand-held and laser 3D scanners, thanks to which you can make extremely precise three-dimensional models of scanned objects. In the case of 3D scanners, the laser beam (red or blue) is directed at the scanned object. The device measures the refraction of the rays or their distance to the object. Using this data, the software builds a three-dimensional model of the scanned object, which is helpful in scanning with the use ofet3d.eu/pl/270-skanery-3d-laserowe ">3D laser scanneris the use of magnetic markers a>or glued, which you can also find in our offerbad store.
3D scanners are used in an increasing number of industrial sectors. Currently, they are used, inter alia, in: civil engineering, forensics, medicine, fashion, culture, agriculture, space industry, as well as a quality control tool.
Desktop 3D scanners - what should you know? span>
Small and handy handheld 3D scanners a>They are excellent for scanning especially large objects, because you just need to place dot markers on the surface and then scan every fragment of the object. However, this type of action requires disputesskills and experience to obtain the highest quality three-dimensional model. In the case of desktop 3D scanners span>the task is a bit simpler. It is enough to place the object on a special surface that helps the device to accurately determine the position of the scanned object, and then make a 3D model in the program.
Check span>desktop 3D scanners at Outlet3D.euand choose the model thatsuits your needs. Order today and we'll take care of fast shipment of your equipment.