14 days to return
We offer a 14 days money-back guarantee in case you don't like the product for any reason

Professional advice
We offer professional advice on the purchase and sale by ours specialits

Quality Assurance
We provide a quality guarantee for the products in our store

Fast shipping
We have most of our products in stock. We ship them in a 24 hours
Contactors


There are 2 products.
Showing 1-2 of 2 item(s)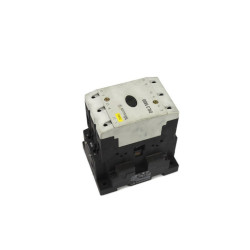 Contactoris an electrical mechanical switch which, unlike a relay, is designed to connect main circuits. Among them, we distinguish high-current types, such as an electric motor, electric heater, pump, fan or transformer. The possibility of remote control is a great convenience, it is extremely important in the case of hard-to-reach places where manual control is impossible.
Jan

Power factors - characteristics and method of use h2>

Contactoris selected for the application with which the device is equipped. Its appropriate choice depends on the power of the device and the voltage, i.e. DC and AC. In addition, the assembly parameters are also of great importance, as there are contactors mounted on a rail, plate or that are intended for soldering. However, they became the most popularet3d.eu/pl/styczniki/1248-stychnik-mocy-siemens-3rt2016-1bb41.html ">3 - phase contactorswhich have many industrial applications. They are also used to control electric motors, lighting control, heaters or capacitor banks. This means that they can be used wherever there is a high electrical load.
Contactors Outlet3D.eu - its structure and operation span>
Contactorit is also known as an electrical connector. It consists of a coil and two pairs of contacts - working, core, springs ppanels and chambers designed to extinguish an electric arc. Among the two contacts, there is one main that activates the device. On the other hand, the second, or auxiliary contact, can be used to provide additional information. If you want to run Jan.disappears, then in this case the current of the correct voltage is necessary. Its action on the magnet coil will close the main contacts of the contactor. Closing them means starting the connected device. However, its disconnection is possible by reducing the voltage connected to the contactor's coil.

Outlet3D.eu contactor,which you will find in our store assortment comes in many forms. All models differ from each other depending on their power and characteristics. Unlike a circuit breaker, they are not designed to interrupt the short-circuit current, but the devices operate in a wide current range from a few amps up to a few kilo amps. The physical dimensions of the contactors are even larger than 1 meter.
Seebut also available in our offer :cam switches a>andmotor circuit breakers .