14 days to return
We offer a 14 days money-back guarantee in case you don't like the product for any reason

Professional advice
We offer professional advice on the purchase and sale by ours specialits

Quality Assurance
We provide a quality guarantee for the products in our store

Fast shipping
We have most of our products in stock. We ship them in a 24 hours
Optical sensors


There are 2 products.
Showing 1-2 of 2 item(s)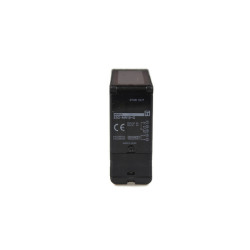 Optical sensorsare widely used in industrial automation and many production processes. They are used for counting materials on conveyors or roller belts, for measuring materials and loose materials in closed containers, and for controlling the position of moving machine parts. They are characterized by a very wide area of object detection. What's more, you will find these sensors in our offertemperature, crankshaft position or pressure.
Optical sensor and its structure
The offered sensor models have a very similar structure. They consist of a transmitter sending a light beam, as well as a receiver that detects these changes - some of the proposed devices react to the arrival of the beam, and others to its interruption or change in intensity. In our store you will find devices that emit visible, laser or infrared radiation, invisible to the human eye. Depending on the model, the transmitter-receiver system can be placed opposite each other or in one housing, then it reacts to the reflected light beam. Detection of an object or substance by the optical sensor nIt acts when the radiation is interrupted, which prevents the beam from reaching the receiving module. The only exceptions here are the reflective models, which react to light reflected from the surface of an object.
Rich assortment of the store - position sensors and other types of productsktów span>
Currentlyposition sensors are often used in various industries. When choosing them, you should take into account the system settings, the type of the light beam sent, the range of operation and the type of the output signal. This allows the use of opticalin difficult conditions, such as high dust or artificial lighting. During the purchase, it is worth carefully reviewing all the parameters of the detectors in order to provide yourself and your company with the best measurement data. It is possible thanks to the wide range of the Outlet3D.eu store. Offered by us sensorsthey are characterized by remarkable durability. They are made of damage-resistant plastic, and their price is extremely favorable. They are one of the most frequently chosen products.

In addition, in our offer you will findtemperature sensors, characterized by high precision and reliability, pressure sensors b>widely used in industry or span>shaft position sensors crankshaft popular in the automotive industry. We invite you to familiarize yourself with our entire range. See also the offer of our other sensors:
If you still haven't found what you are looking for, check our tabf = "https://outlet3d.eu/pl/254-czujniki-pozostale">other sensors .