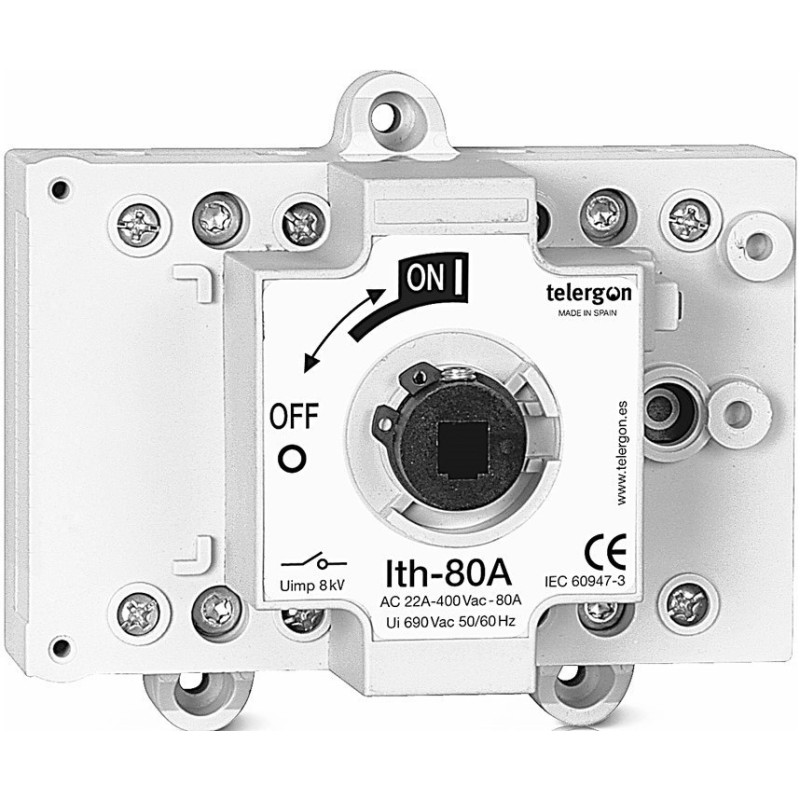  
Switch-disconnector 80A , 3-poles TELERGON
$52.29 brutto
52.29 tax excl.

14 days to return
Withdrawal from contract within 14 days without giving any reason

Fast shipping
Items available in stock are shipped on weekdays within 24 hours
Switch-disconnector 80A / 400V / AC22A, 3-poles. Cable terminals up to 25mm2 . Base mounting with screws.
Manufacturer : TELERGON - Spain 
Switch-disconnector 63A / 500V / AC23A, 3-poles . Cable terminals 25mm2 . Base mounting with screws.  Types of handles : Direct handle for fixing onto disconnector,   External handle,  Emergency external handle.
 The handles : good grip and excellent torque/ resistance  Padlockable handle in O OFF position (up to three locks Ø 5-8 mm)   Door interlock in ON I position  When lock  in O OFF position, door is interlocked  Defeteable feature in ON I position (with the use of a tool for maintenance operations). Handle interlock is restored when closing  Self-centering shaft for door handle. 
The prices of handles the accessories are not included in the price of disconnector.
Please find the attachment with accesories, technical data and drawings. 
  The switch-disconnectors , are manufactured with high safety self-extinguishing materials, providing an excellent level of electrical insulation, low smoke emission and high resistance to electromechanical stress.They consist of a sandwich-type body containing self-cleaning blade type contacts, with pre-arc zones to ensure long term, fault-free energy transmission and coated with silver alloy for long electromechanical life. The detent mechanism provides quick and independent switching due to the accumulation of elastic potential energy, which is transmitted at high speed to the contacts for arc extinction.
Download
40A, 63A, 80A - Technical data
Download (159.33k)