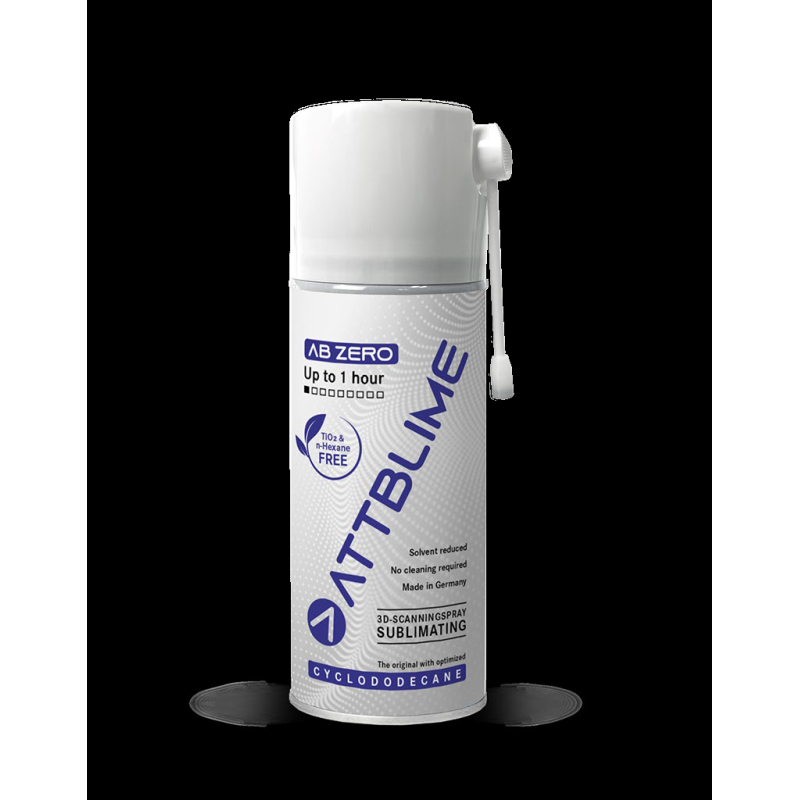  
ATTBLIME ABzero 400ml 3D Scanningspray sublimierend 0 bis 1 Std
A scanning spray was created under the name ATTBLIME® AB2, which enables the user to achieve an even and homogeneous spray pattern. The newly developed self-volatilizing (sublimating) 3D scanning spray ABzero is based on the proven raw material cyclododecane, which we have further optimized.

The effective scan time (scan time) is 0 to 1 hour. The sublimation time (sublimation time), i.e. the time in which the spray dissolves, is around 1 to 2 hours. These times vary depending on the environmental conditions such as the component surface, room temperature, air circulation or humidity.

The scanning spray is free from TiO2, n-hexane and adamantane. ABzero adheres to all porous and non-porous surfaces such as textiles, wood, glass, painted surfaces, metal, plastic, stone, mortar and paper.

The spray cans are equipped with the unique SHC system (spray-head-change-system), which enables the user to spray the components with a conventional standard nozzle and areas that are difficult to access such as blind holes etc. completely and homogeneously with the special nozzle to matt.

ATTBLIME ABzero is ideal for the temporary matting of surfaces for optical 3D measurement technology without subsequent cleaning. Reference point marks can simply be stuck onto the treated area.
Product Characteristics
Form Transparent Liquid
Basis Solvent
Propellent (aerosol) Propane/Butane
Colour Whitish Gray
Pigment Pigment-free
Key Ingredient ATTBLIME® Cyclododecane
Free Scan Time  hrs 1 hours
Sublimation Time 1 - 2 hours
Type Sublimating/ Self-evaporating
Residue NIL
Film formation 60 seconds
Coating thickness < 3.0 μm
Application 3D Scanning
Adherence of Reference points on film Yes
Size of Component Small to Medium
Toxicology Irritant
Area Coverage (m2) 2.5
Spray mechanism ATTBLIME SHC®
Spray Distance 10-20 cm's
Storage Temperature 5-45 ℃
Shelf Life 5 years
Form / Pack Size 400ml Aerosols
Case Size 6 or 12