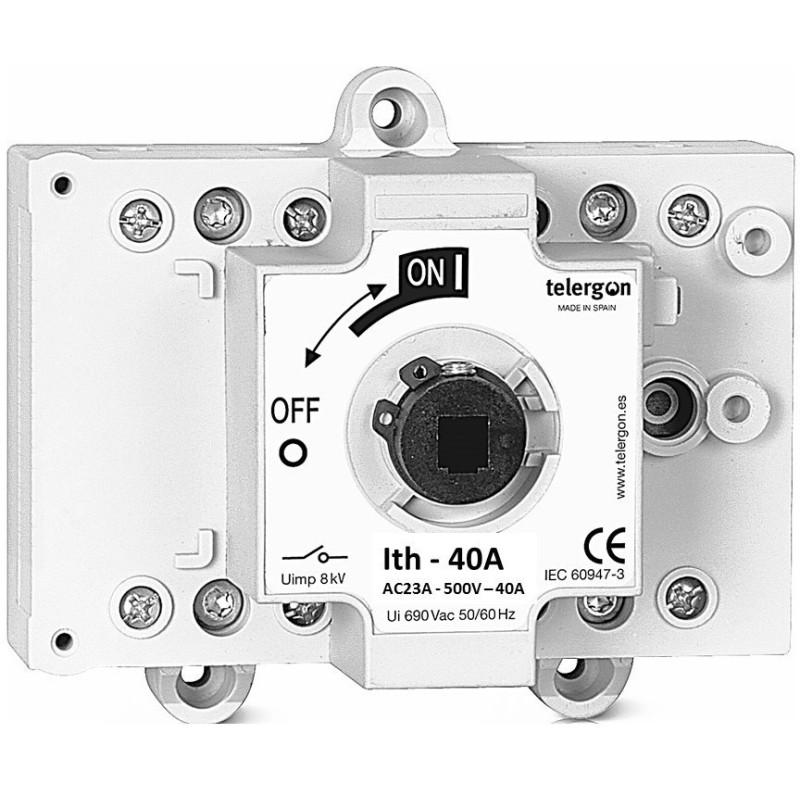  
40A switch disconnector, 3-pole TELERGON
$42.30 brutto
42.30 tax excl.

14 days to return
Withdrawal from contract within 14 days without giving any reason

Fast shipping
Items available in stock are shipped on weekdays within 24 hours
Switch disconnector 40A / 500V / AC23A, 3-pole, terminals 25mm 2, mounting on a plate.
Producer: TELERGON - Spain
3-pole switch disconnector 40A / 500V / AC23A, with independent drive. Clamps for cables with a maximum cross-sectional area of 25mm2, Plate mount camera. The lever (handle) is mounted directly on the apparatus or on the facade (door) of the switchgear housing. The lever must be ordered additionally.
ATweight: When ordering, specify the type of lever (handle) of the drive.
ANDaccessories available on request:
- direct lever,
- external lever,
- safety lever,
- adapter for mounting on a TH35 rail,
- auxiliary contacts 1NO + 1NC (DSLAU01) h4>- auxiliary contacts 2NO + 2NC (DSLAU02) We also offer 2-pole devices (2P) em>; 3-pole (3P) and 4-pole (3P + N). em> h4>