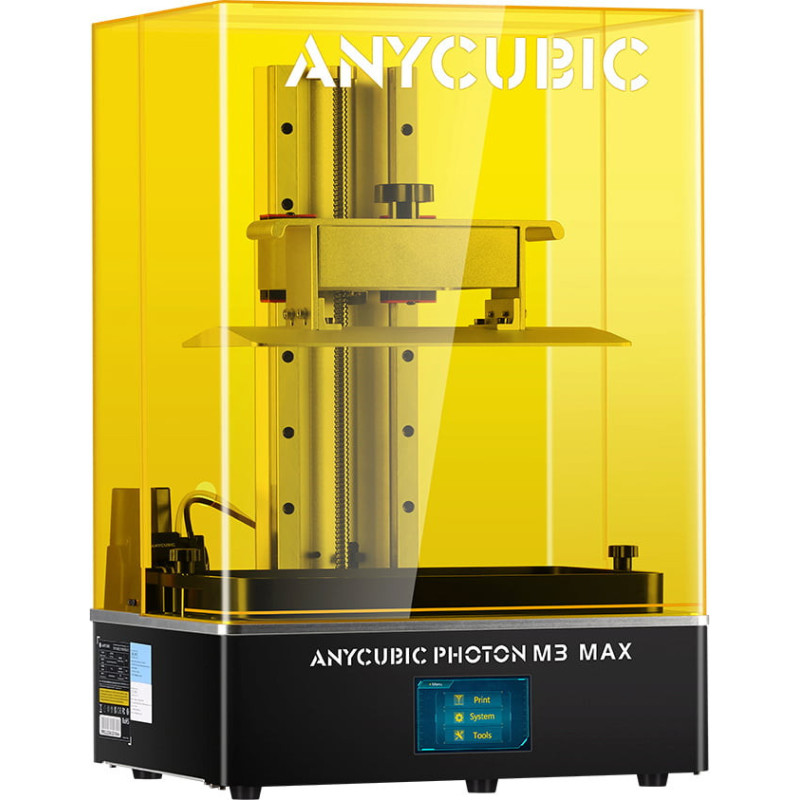  
Anycubic Photon M3 Max 3D Printer
    Exposure screen: 13.6" monochrome
    Printing accuracy: 6,480 x 3,600 px (7K)
    Contrast ratio: 450:1
    Light source: Parallel matrix (LED lights x 84)
    Build plate: Laser engraved platform
    Printing speed: ≤ 6 cm/hr
    Control panel: 4.3" resistive touch-control
    Data input: USB-A 2.0
    Rated power: 120W
    Print size: 30.0 x 29.8 x 16.4 cm / 11.8 x 11.7 x 6.46 in. (HWD)
    Printing volume: 14.7 L / 498.5 oz
    Machine size: 59.6 x 40.0 x 40.8 cm / 23.5 x 15.7 x 16 in. (HWD)
    Machine weight: 26 kg / 57.3 lb
Printer features;

Large working area and precise detail reproduction
The Anycubic Photon M3 Max features a 13.6-inch 7K monochrome display. The printer can create parts up to 298 x 164 x 300 mm (L x W x H). Combined with a high-precision rolling screw on the Z-axis, it allows the creation of large and highly accurate resin models.

Very high resolution
The high resolution of 6480 x 3600 pixels enables models to be printed with high dimensional accuracy and precise detail.

Intelligent resin filling
Photon M3 Max has a new feature that allows you to fill the resin tank hands-free. When there is enough resin in it, the filling will stop.

Laser engraved workplate
The workplate is engraved in a checkerboard pattern, ensuring good grip of the model and increasing the number of successful prints.

High print speed
The Photon M3 Max achieves print speeds of up to 60 mm/h. The printer needs only 2 hours to produce a 120 mm high part.

LCD screen with 450:1 contrast
The LCD screen with a contrast of 450:1 guarantees sharp edges and a beautiful surface finish.

Powerful LightTurbo Matrix LED light source
Anycubic's LightTurbo system with LEDs in the matrix creates a powerful light source for fast printing.

Protective film for LCD screen
The protective film tightly covers the LCD screen and prevents scratches, thus extending its life.

Anycubic Photon Workshop - Slicer
Like all Anycubic 3D printers, the Photon M3 Max is compatible with Anycubic Photon Workshop's free Slicer software. This is ideal for setting print parameters and saves you from purchasing other software.